Welcome to Treme Wiki!
A wiki dedicated to the HBO Program, Treme, that anyone can edit!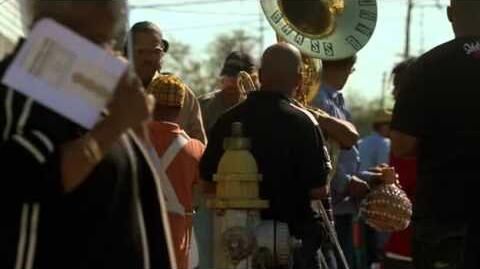 "... To Miss New Orleans" is the series finale and the fifth episode of the fourth season. It is the thirty sixth episode of the series overall. The episode was co-written by series creators and Executive Producers David Simon and Eric Overmyer. It was directed by Agnieszka Holland. Read More




Treme is an American television drama series created by David Simon and Eric Overmyer. The series takes its name from the Tremé neighborhood in the city of New Orleans. The series begins three months after Hurricane Katrina. It follows residents of New Orleans, including musicians, chefs, Mardi Gras Indians, and ordinary New Orleanians try to rebuild their lives, their homes and their unique culture in the aftermath of the 2005 hurricane.
The series premiered on HBO on April 11, 2010, with an 80-minute pilot episode, the first of a 10 episode first season. The 11 episode second season premiered on April 24, 2011. A 10 episode third season and a concluding five episode fourth season followed in 2013 and 2014 respectively.
Season 4 premiered on December 1, 2013 and concluded on December 29, 2013. It consists of five episodes. Read More
Blogs
I'm just going to jot down a few thoughts on the series finale having finally finished off the show, 6 months after it concluded on HBO.
I've had a busy few months having become a father and started a…
I've been away for a couple of weeks and have just caught up with "Don't You Leave Me Here" a couple of days late. I am thoroughly enjoying the third season of Treme and finding that the show is start…
I started a top 10 list for best current cable drama over at the wikia entertainment hub:
Top 10 list: Current cable dramas
Game of Thrones is leading the voting at the time of writing with my single s…
See more >
---
If you've read the tutorial or already have editing experience, and you have an article relating to Treme to contribute, you may use the box below to create it: <createbox>width=30</createbox>
Community content is available under
CC-BY-SA
unless otherwise noted.